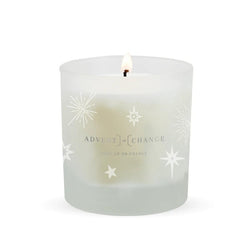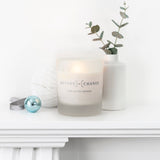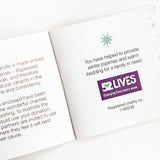 Advent of Change
'12 Days of Kindness' Charity Candle
The 12 Days of Kindness Candle is the perfect Christmas gift to keep the Advent of Change spirit going well beyond the festive season. 
Made from 100% natural wax with no parabens, and styled to perfection with a beautifully frosted glass finish, our eucalyptus and lime scented charity candle not only makes for elegant decor, but also has a huge positive impact.
12 hidden stars are revealed when lit, one to represent each charity supported by your purchase! Light the candle each day, or whenever you need a pick-me-up, and use the booklet include to discover the 12 carefully selected charities with a range of wonderful causes.
HOW IT WORKS...
Purchase the candle- 12 donations are included in the price. 
Light the candle- As the wax burns down, the hidden stars are revealed. Use the booklet included to discover which charity you've helped at each stage and what your donation has enabled them to do – from providing food and medicine for those in need, to protecting our oceans and animals.
Feel good- You've changed the world! 
Why choose an Advent of Change Charity Candle this Christmas?
We know how hard it is selecting a meaningful gift at Christmas, with our charity candle you've found the perfect choice.
Plastic-free, made from natural ingredients, and of course charitable, this candle will fill yours or a loved one's home with the spirit of giving this Christmas.
Made in the UK by our small team, this candle proves that even the tiniest of actions can make a huge difference for generations to come. As a non-profit organisation, over 75% of the proceeds from this purchase go directly to charity.
See 'Charities supported' to view the 24 amazing causes. 
Will you open up to change this year? 
All Advent Calendars and Advent Candle
52 Lives | Air Ambulances UK | Alzheimer's Research UK | Baby Lifeline | Become | Big Change | Emmaus | Farms for City Children | FoodCycle | National Autistic Society | Panathlon | Project Harar | Rainbow Trust Children's Charity | Re-engage | Sand Dams Worldwide | Shout | Surfers Against Sewage | Think Equal | Tommy's | Toybox | WellChild | Willow | Winston's Wish | Woodgreen

12 Days of Kindness Giftbook
Air Ambulances UK | Alzheimer's Research UK | Become | FoodCycle | Rainbow Trust Children's Charity | Re-engage | Shout | Surfers Against Sewage | Tommy's | Toybox | WellChild | Woodgreen

12 Days of Kindness Candle
52 Lives | Baby Lifeline | Big Change | Emmaus | Farms for City Children | National Autistic Society | Panathlon | Project Harar | Sand Dams Worldwide | Think Equal | Willow | Winston's Wish